Past Exhibitions:
Double Vision, 2015
Rachelle Bussières Monument Mineral, 2015
Jenna Westra, Manual, 2014
Photographs 2, 2014
On a Dark Night I Left My Silent House, 2013
Photographs, 2013

Press

James Reeder, Director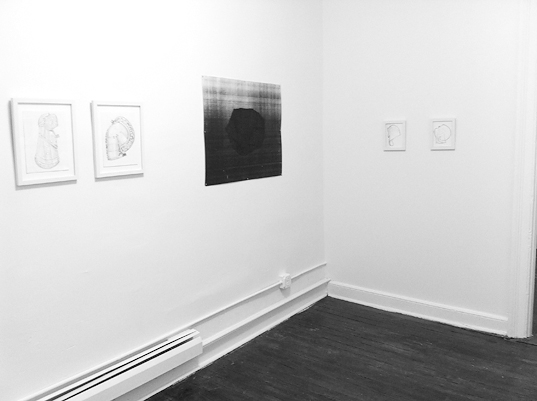 "On a Dark Night I Left My Silent House"
September 27-October 27, 2013
Opening reception: September 27, 6-9pm

Selected as one of the "Beat Nite All Stars" galleries, Friday October 25, 2013

SILVER PROJECTS presents work by New York artists Nesta Mayo (drawings), Jenny Vogel (video), and Michelle Kloehn (photographs), along with vintage anonymous photographs.


In the novel On a Dark Night I Left My Silent House [1], a postmodern update of Miguel de Cervantes' Don Quixote [2], Peter Handke revisits grandiose episodes on the steppes of Spain, hallucinations, mysterious bodies of light, and isolation: all familiar hallmarks of the setup to a fall. During those moments, Handke vignettes each inarticulate gesture—as if to say "with this the heroic populates"—through a narration fragmented into three points of view. At night nothing seems impossible, futile, or inconsequential. And the possibility of failure only becomes apparent once day returns.

While not responding directly to Handke's novel, the three artists here work with these themes using a range of laborious and methodical processes.

Nesta Mayo uses shapes and forms found in the 16th century Spanish arsenal of manual weaponry. Elements of armor separated as dismemberment are decomposed and torn apart through a series of steps from meticulous graphite drawings to decayed fragments.

Jenny Vogel's work explores failure, gravity, and error as a creative catalyst. Tar and delicately buoyant forms tenuously hover and tremble over a background of glitching and looping Xeroxed copies.

In Michelle Kloehn's tintype photographs, facets and shadows emanate from a body of light possessing a metallic mass and presence more real than the illuminated space. This is the light that energizes hallucinations and moments of revelation, triggering such episodes of failure.



1. Germany: Suhrkamp, 1997
2. Spain: Juan de la Cuesta, Part I, 1605; Part II, 1615

See also:
Pierre Menard, Author of the Quixote, Jorge Luis Borjes. Argentina: Sur, 1939,
The Nonexistent Knight, Italo Calvino. Italy: Einaudi, 1959,
An Episode in the Life of a Landscape Painter, César Aira. Argentina: Lom Ediciones, 2000.